If you are searching for a new vacation spot- you have found it!  Small and quaint with an abundance of natural beauty and charm, San Agustinillo is waiting.  Explore this site and start planning your next vacation.  If you have already discovered this seductive coast, feel free to share your experiences! Our Casa Mihale is available for vacation rentals by the week and is just steps from the warm waters of the Pacific.  Click this video to go inside CASA MIHALE to see more photos of our home and book your next vacation.
Samantha Hall shot this amazing video of the whales just off the shores of San Agustinillo while staying at Casa Mihale this Christmas.  Thanks for sharing this Sam!  Great video.
Best Beaches In Mexico according to The Guardian Newspaper reader's…..
San Agustinillo: pristine beach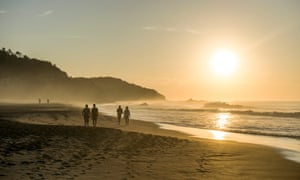 Between Puerto Escondido and Pochutla on Oaxaca's Pacific coast sits the tiny town of San Agustinillo and perhaps the finest pristine beach in Mexico. The sand is soft, the palm trees sway, the waves are huge and endless. Sunset sees serious surfers share the evening with traditional dancers and music. Hemmed in by cliffs, it has resisted major development and yet found space for cosmopolitan restaurants and luxury and budget accommodation by the beach . This is Mexico as it should be – catch it while you can.
(Full article http://www.theguardian.com/travel/2015/dec/10/mexico-best-beaches-hotels-hostels-readers-tips)
 This is a new tourism video of our state Oaxaca
KEEP READING!  Just below this, find what our Guests say!

Find more at TRIPADVISOR.COM, VRBO and AIRBNB